Personalize Your Grace Notes Wind Chime with Custom Engraving
Wind chimes can be some of the most cherished and personal gifts that you can give especially when you personalize them with custom engraving. This service is currently only available on Grace Notes Wind Chimes so please keep this in mind when ordering. Ecowindchimes.com offers custom engraving on our entire line of Grace Notes wind chimes in any quantity you desire. This is a simple yet effective way to commemorate special events, pay homage to a particular locale, or to enhance a corporate gift. Our personalized engravings appear on the Grace Notes wind plates making them both highly visible and aesthetically pleasing.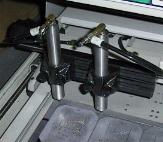 Our custom engravings can help celebrate holidays, anniversaries, weddings, birthdays, or any special occasion. To add an engraving to your Grace Notes wind chime, simply choose the type/style of engraving you want from the products page (for each side). Then, you can include your personalized message and then place the order in your shopping cart. You can include special engraving instructions in parentheses for that special personalized touch that is sure to be appreciated by those receiving the wind chime.
The cost for engraving is only $10 per side (for up to 50 characters) and you may choose from one of the designs below. Any and all words on all of our designs can be customized at no additional cost. Additional characters will cost 10 cents each for which you will be billed seperately.
Engraving can add 2-3 business days to order processing time. On orders placed near holidays, the processing time may take a little longer but we will contact you if the delay exceeds more than 3 days.
Rachel and I love the engraving option because it adds exclusivity and personalized attention to the wind chime. We hope you take advantage of our engraving service and please feel free to contact us at info@ecowindchimes.com if you have any questions about this service.
Sincerely,
Rachel and Stephen Betzen